about me & what i do ~
Who am I?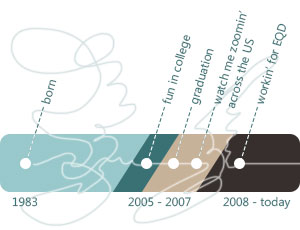 I'm thirsty to create. My heart pounds at the thought of building something from the ground up, of putting thought into motion, and seeing a polished product come to life at the finish line. I've been creating since the day I began illustrating my own books in grade school. After graduating from Whatcom University, I've been actively involved with web and visual design, user interface and usability prototyping, and software development for the last 5 years. I've designed websites for small businesses, corporations, nonprofits, governmental administration, nightlife venues, and more. I also started a design blog, Aimee-Design, where I share inspiration, tutorials, and resources.
My specialty is front-end web design and development, making vector magic in Illustrator and turning it into beautiful, syntactic HTML & CSS. My interests, however, extend beyond the web and I love helping people with branding, print design and marketing strategy. Recently my passions have turned to envisioning the methods and means of a user; creating simple, fluid workflows drives creativity in all of my designs.
When I'm not designing, I'm usually hanging out with my boyfriend and our two dogs, drawing portraits for friends and family, or creating glorious new worlds on paper, chapter by chapter.
What can I do for you?
Web Design
Graphics Professional
Visual Design
Branding & Identity
Usability and User Experience
Print Design
HTML & CSS
Illustration Services
Search Engine Optimization
Basic Copywrite Services
Content Management
Technical Writing & Documentation
WPF & Silverlight
Basic SQL Understanding
Agile Development Management
Quality Assurance
Project and Product Management
So that's about it. Ready to get started?